Sylvain ENYEGUE,
Founder of Senfirst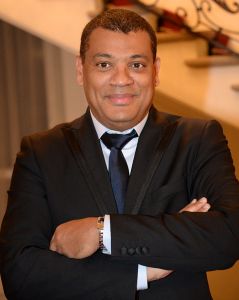 With over 20 year's full time sound work experience in broad IT areas, Sylvain contributed to supporting business strategy and growth plans within Industry Multinational Corporations.






Prior to the foundation of Senfirst, Sylvain acted during one decade as Worldwide IT Director in Multinational Companies including Gemalto, Areva (Front-End Division, International Marketing and Sales Division), and Schneider Electric. He also served as Information System Manager within Total, with previous roles including Business IT Project Management for British Telecom and General Motors.
Bilingual French / English, open to mobility, Sylvain proved his ability to work in international environments including more than 20 countries (France, USA, Germany, India, China, UAE, Cameroon, Ivory Coast, UK, Sweden, Luxembourg, Netherlands, Spain, Italy, Ireland, Singapore, Mauritius, Cuba,…….)
Sylvain has a strong educational background including an Executive MBA from ESSEC Business School, a Post Master degree in Computer Sciences from ENSI CAEN and a Post-Master degree in Business Administration from IAE CAEN.